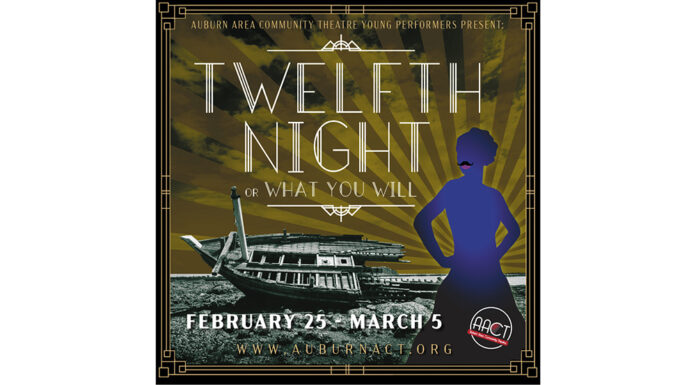 Upcoming Adult Auditions and Youth Classes Announced
Contributed by AACT
Auburn Area Community Theatre is in full swing. Next in the season is the Young Performers, ages 13 through 18, with a distinctive adaptation of Shakespeare's classic romantic comedy about mistaken identity and self-discovery.
"Twelfth Night" is fast paced and packed with romance and practical jokes. Join Viola as she journeys through the whimsical land of Illyria and meets an amazing cast of characters set in the 1920s. With a run-time of approximately 60 minutes, this abridged version is a great introduction to Shakespeare.
Performances are scheduled for February 25, 26, 28 and March 3, 4 and 5, at 6:30 p.m. with matinees on February 26th & March 5 at 2 p.m.
Tickets are $10 for adults and $8 for students and seniors. Monday Feb. 28 is Family Night and all tickets are $8. Call 334-246-1084 or visit www.auburnact.org for ticket purchases and more information. Email info@auburnact.org for group rate information.
Additionally, AACT will be holding Open Auditions for "Vanya and Sonia and Masha and Spike." No previous experience is necessary. Four women and two men are needed for this Tony award-winning comedy.
Auditions will be held at the Jan Dempsey Community Arts Center on Feb. 28 and March 1 from 6 to 8 p.m. and are open to anyone age 17 and up. Callbacks will be on March 3 from 6 to 8 p.m. Come either or both audition days, and read from the scripts provided. Set, props and other volunteers are also welcome to come to auditions.
Rehearsals will be on Mondays, Tuesdays and Thursdays from 6 to 8 p.m. beginning on March 7 and will continue to performance dates. Not every performer will be required for every rehearsal. Performance Dates will be May 13, 14, 19, 20 and 21 at 7 p.m. and May 15 and 22 at 2 p.m.
Lastly, but not least, registration for AACT Academy spring classes is open! ACT I, II and III classes cover ages 5 to 18. Classes run March 17 through May 19, with the final presentation on May 19 from 5 to 6 p.m. These acting classes are for beginners to advanced students. Come and learn new skills, or build on previous theater experience. Classes are designed to inspire imagination, creativity, teach teamwork and build confidence. Students will be exposed to theater fundamentals through scene works, improv activities and more. This term the classes are performance based. Cost is $70/child. Sibling discounts and need-based scholarships are available. Scholarship forms and details are available at www.auburnact.org. Classes are on Thursdays from 4 to 5 p.m. (ACT I) or 5 to 6 p.m. (ACT II & III).
Please visit www.auburnact.org for more information or contact info@auburnact.org with any questions.
Auburn Area Community Theatre is a non-profit organization that exists to serve the Auburn/Opelika Community. Its purpose is to provide an opportunity for education and participation in the world of theatre and present a quality, entertaining and thought-provoking theatre experience. AACT is a volunteer organization that depends on the time and energy of many wonderful people from within the community. There's something for everyone. Visit www.auburnact.org to find the volunteer interest form or email info@auburnact.org to get involved. Follow AuburnACT on Facebook or keep up with the organization at www.AuburnACT.org for the latest information on auditions, volunteer opportunities, tickets and more.