By Hannah Lester
hlester@opelikaobserver.com
Zaneta Heard uses art as a way to cope with grief. She lost her son and found solace in a creative outlet.
Now her work, through her new business Chic Hippie Z, is available inside The Well in Opelika and Heard felt led spiritually to the collection of businesses.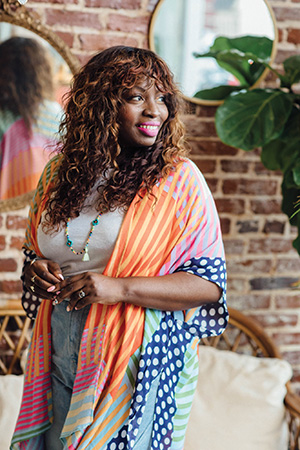 "I've always been into the arts and things of that nature since I was growing up but it was just kind of a thing that I would do every once in a while," she said. "I would do DIY projects and things like that. But, when I lost my son in December of 2019, it became more of an outlet for me to be able to kind of process my grief."
Heard had an abundance of art pieces, everything from wreaths, earrings, wall hangings, resin coasters, abstract pieces and more but nothing to do with them. Additionally, like the rest of the world in 2020, Heard was forced to stay home and quarantine. Which gave her plenty of time to work on her art.
So, she opened an Etsy shop: www.etsy.com/shop/ChicHippieZ. Heard described her art as colorful and full of joy.
"It was just kind of like God lined everything up with the timing of that so that I could be at home to kind of use that outlet to ultimately start the healing process," she said.
Heard said it was a "God thing" finding The Well.
The Well opened on Avenue A in Opelika in 2021 and is a collection of businesses inside one inclusive space.
There are other art products for sale, such as prints, jewelry and clothes. But there is also food: donuts, salads, teas and lattes. And each business is owned or run by women.
Heard said she read about The Well and felt called by God to reach out and get involved.
"I was hit with all these emotions," she said. "I had an overwhelming movement of emotions. It was crazy. I started crying when I was reading it because God was saying 'you're supposed to be involved with this place in some way.'"
Although Heard now sells her art inside The Well, she said she doesn't know that selling her work is the extent of what she is called to do for The Well.
"You never know who you can heal through your work," she said. "… I just hope that it can be hope for someone else or bring joy to someone's life when they do look at it or have it in their house or whatever the case may be, the same kind of joy that it has given me to create it and healing that it has provided for me."
Heard said God has called her to create a grief art studio as well, at some point in the future.
"Just being connected with some people through The Well maybe even just bring that to fruition," she said.
The Well is located at 824 Ave. A, Opelika and is open:
Monday: 2 p.m. – 7 p.m.
Tuesdays – Thursday: 7 a.m. – 7 p.m.
Friday – Saturday: 10 a.m. – 10 p.m.
Sunday: 10 a.m. – 2 p.m.
This is the sixth in a series of articles on the different businesses that are located inside The Well.