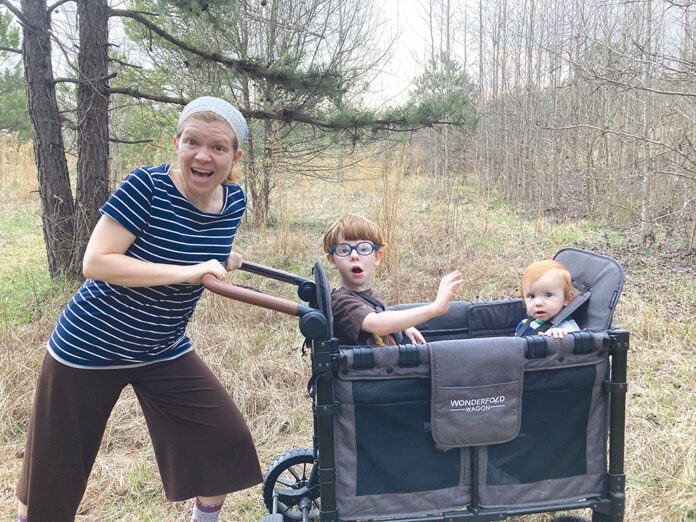 BY KENDYL HOLLINGSWORTH
KENDYLH@
OPELIKAOBSERVER.COM
AUBURN —
Adventurers come in all shapes, sizes, colors and abilities.
Six-year-old Emmett Belcher is one young adventurer that could use a little help from the community to make his adventuring more accessible.
Emmett, a kindergartener at Cary Woods Elementary School in Auburn, was born with a rare, genetic brain malformation called hemimegalencephaly. At 7 months old, he had to undergo a hemispherectomy — a major brain surgery — to relieve him of 20-plus daily seizures.
"This surgery and the seizures had some pretty serious impacts: cerebral palsy, intellectual disability, apraxia, vision loss and autism-like traits," explained Emmett's mother, Annie Campbell. "But Emmett is a bright and beautiful little human and loves adventure."
Both Emmett and his younger brother love camping, being in the water and playing at the inclusive playground. But one of the most fun experiences for the 6-year-old, his mother said, is simply being in motion — something his tricycle has allowed in recent years. However, "there are no adaptations on Emmett's current trike, which he is also rapidly outgrowing."
Another mother whose child underwent the same surgery as Emmett alerted Campbell to a Circle of Friends giveaway for an ET2611 Tandem bicycle by Freedom Concepts, which would allow Emmett to ride with more safety and control.
"The Cable-Actuated Rear Steering system allows the driver to make precise maneuvers and turn sharply from the back," the contest page reads. "The front rider, whether visually or physically challenged, can still enjoy all the benefits of cycling, including reciprocal movement of the legs and a fresh breeze in their face."
The bike comes at a steep cost for customers: over $5,000 for the ET2611 model.
There are separate giveaways for different bikes and trikes. The child with the most votes in each category will be guaranteed a free cycle, and any others who earn at least 50 votes will be entered into a random drawing to win a cycle as well. Luckily, Emmett has already surpassed the 50-votes mark — but as of March 21 he was ranked No. 6 in his category.
Besides its adaptations, another benefit of the tandem bike is that it will last far beyond Emmett's current trike.
"It is fully adjustable from 7 years old onward," Campbell said. "Emmett would be able to use this bike all the way into adulthood — his entire life!"
Even though Emmett's parents modified his trike to accommodate the weakness in his left side, those modifications can only help so much.
"We have to use Velcro straps to connect his left foot to the pedal and his left hand to the handlebar," his mother explained. "This condition also renders him unable to steer the bike himself. … There are also no straps on the seat, so he is at risk of falling out. So in order to safely use his current bike, we just slowly pull him up and down the street. … Not only will this bike be great for him, but it will help protect my and my husband's bodies from the strain that we experience trying to help him have great experiences."
Emmett and his family have explored the great outdoors on several occasions — western North Carolina and Alabama state parks being some of the hotspots — but as Emmett has outgrown hiking packs and struggles to walk more than a quarter mile, the family has had to cut down on hiking excursions.
As trails are becoming more accessible, though, the tandem bike would allow Emmett to once again enjoy any flat-ground trail on the family's adventures.
"This bike would be an absolute game-changer for what we could do as a family," Campbell remarked. "… We would be able to take this bike on the back of our van anywhere flat trails are available. We would be able to see so much more of this beautiful country. The possibilities are very exciting."
In addition to bringing joy and wonder into Emmett's life, the tandem bike would come with a few health benefits as well.
"When he can be outdoors for a long period of time and receive vestibular stimulation that rapid motion enables, he is brighter, happier and sleeps better," Campbell said.
Anyone can vote for Emmett, as well as donate toward the cost of a bike — though donations are not required. If half of the fundraising goal is not met by the March 31 contest deadline, Campbell said the funds will still be put to good use.
"We are fortunate to have an amazing network and local friends and family not too far away," she said. "We also receive a lot of support through the Medicaid waiver program; however, they do not cover these bikes. If we do not meet at least half the goal, everyone's donations will go into the general funding pool for the Circle of Friends bike contest and will help some other child win a bike. We love that.
"Beyond the contest, we just ask that anybody reading this becomes more aware of accessibility — or lack thereof — in our community and the needs of people with physical and intellectual disabilities. Anybody who has used a wheelchair or stroller knows that it is a whole different perspective to try to navigate the world in that way and there's so much more that can be done. It begins with awareness followed by action."
Although Emmett would be the main benefiter of the tandem bike, his mother said it would also mean a lot to show Emmett's younger brother that people with disabilities can enjoy full, happy lives just as much as anyone else.
"His little brother will grow up seeing what a disabled person can do with the proper support and accommodation," she said. "That is amazing."
To vote for Emmett or donate toward the cost of a bike, visit www.greatbikegiveaway.com/Abikeforemmett. Voting ends March 29 at noon Eastern Daylight Time. Winners will be announced March 30 at noon Eastern. Fundraising will continue until April 18 at noon Eastern.