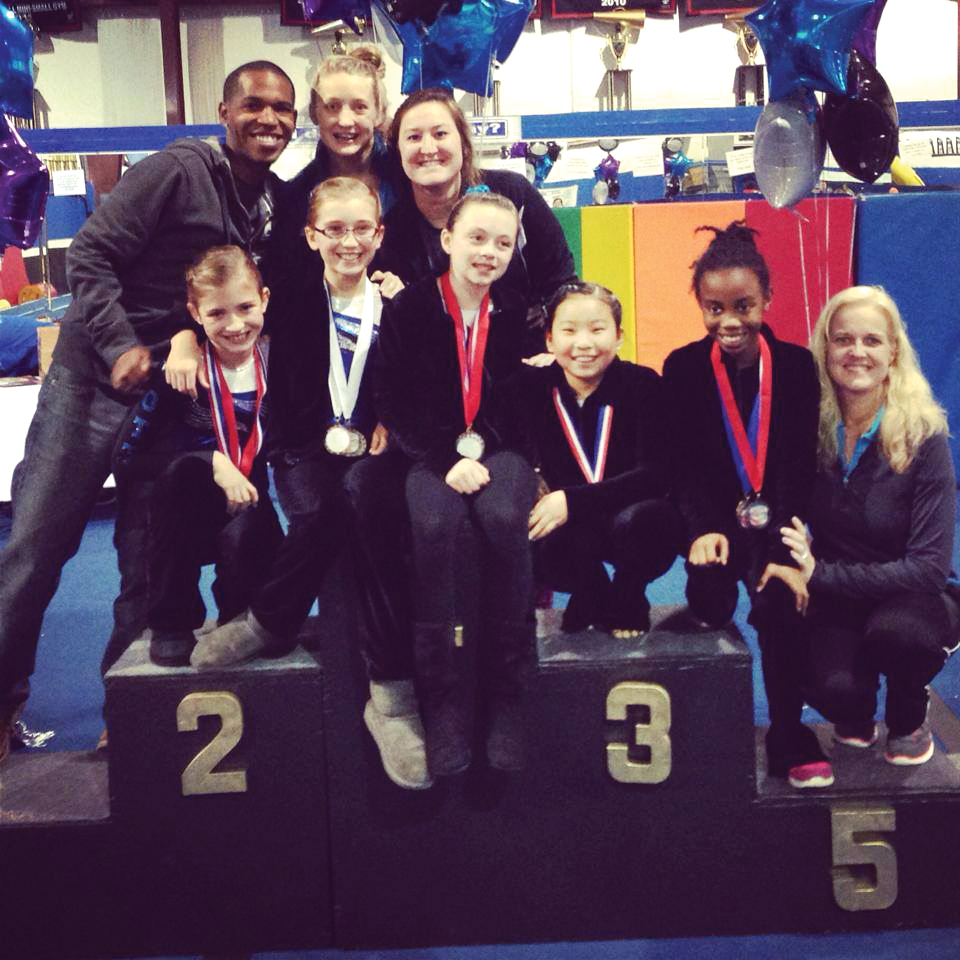 Pictured at a recent event are (top, left to right) Coaches Marco Gamble, Georgia White, Beth Mowery and (bottom right to left) Neely Stewart, MacKenzie Wadsworth, Josie Wiggins, Chelsea Rose Stroud, Barakat Crumbly and Valeri White.
Special to the Opelika Observer
By Daniel Chesser
Staff Writer
Do your children need a place to sharpen their athletic skill set, prepare for cheering tryouts or just simply burn off some energy after a long day at school?
The Opelika Trampoline and Tumbling (OTT) program located on Denson Drive offers just that and more.
In fact, it is the only city-run program in Opelika that competes on a national and even world level (for the U.S. team in Russia, South Africa and Australia).
Valeri White, director of senior programs for Opelika Parks and Recreation, started the program 25 years ago in Opelika after being a gymnast and tumbler throughout her adolescence.
"I had always been in gymnastics and tumbling/trampoline," White said. "I first presented the idea to Auburn Parks and Recreation (in 1988) because Auburn University already had a gymnastics program for kids, but there wasn't anything through parks and recreation that was also affordable for a lot of kids."
White ran the program for five years in Auburn before moving the program to Opelika Parks and Recreation in 1993.
"We needed a place where the trampolines, tumbling mats and equipment could stay in place and not have to be put together then taken down everyday before and after practices," White said. "Plus kids need an outlet, and I wanted it to be affordable."
OTT started at the Armory Arts Center on Denson Drive, developing a stellar reputation over the years in the area, and is now housed in the Denson Drive Recreation Center.
"We focus on proper progression, safety and each kids form because we want it to look better than anybody else so people do know where the kids come from," White said. "Even though we try to make it fit everyone's budget, we have had a world champion in Australia and eight kids who have competed for the U.S. team, one of whom (Beth Mowery) is currently one of our coaches and was a two-time national champion in Russia."
The program grew and gained notoriety from White's first year on.
"My first class had six kids in it. Now we are coaching more than 600 kids in a year's time," White said. "The whole purpose is for kids to gain confidence and be in the best shape they can be in while learning as many skills as possible."
The OTT program is also sanctioned by USA Gymnastics and affords the program the opportunity for the coaches to have education, certification in safety and become registered instructors with USA Gymnastics.
There are a variety of options when it comes to skill levels at OTT, and the program runs from 3:30–7:30 p.m. Monday through Thursday.
For beginners and young participants there is level one (ages 5 and up) that focuses on the basics of trampoline and tumbling as well as a "tumble tots" (age 4) and "parent and me" (ages 2-3) courses for children learning hand-eye coordination.
Once they are confident in their skills and receive a coach's recommendation, they are promoted to level two and three (ages 5 and up) where they have the opportunity to join "team," which is a select group of athletes who compete around the state and nation.
OTT also offers cheer-prep tumbling for athletes looking to make cheer squads at their schools.
The sessions are broken up into winter, spring, summer and fall quarters, and the cost for these services ranges from $45-$60 for one day a week for an eight-week period. The level one, two and three courses can be taken up to four days per week for $95 to $130 per session/quarter.
For more information visit www.opelika.org/opr or find OTT on Facebook.