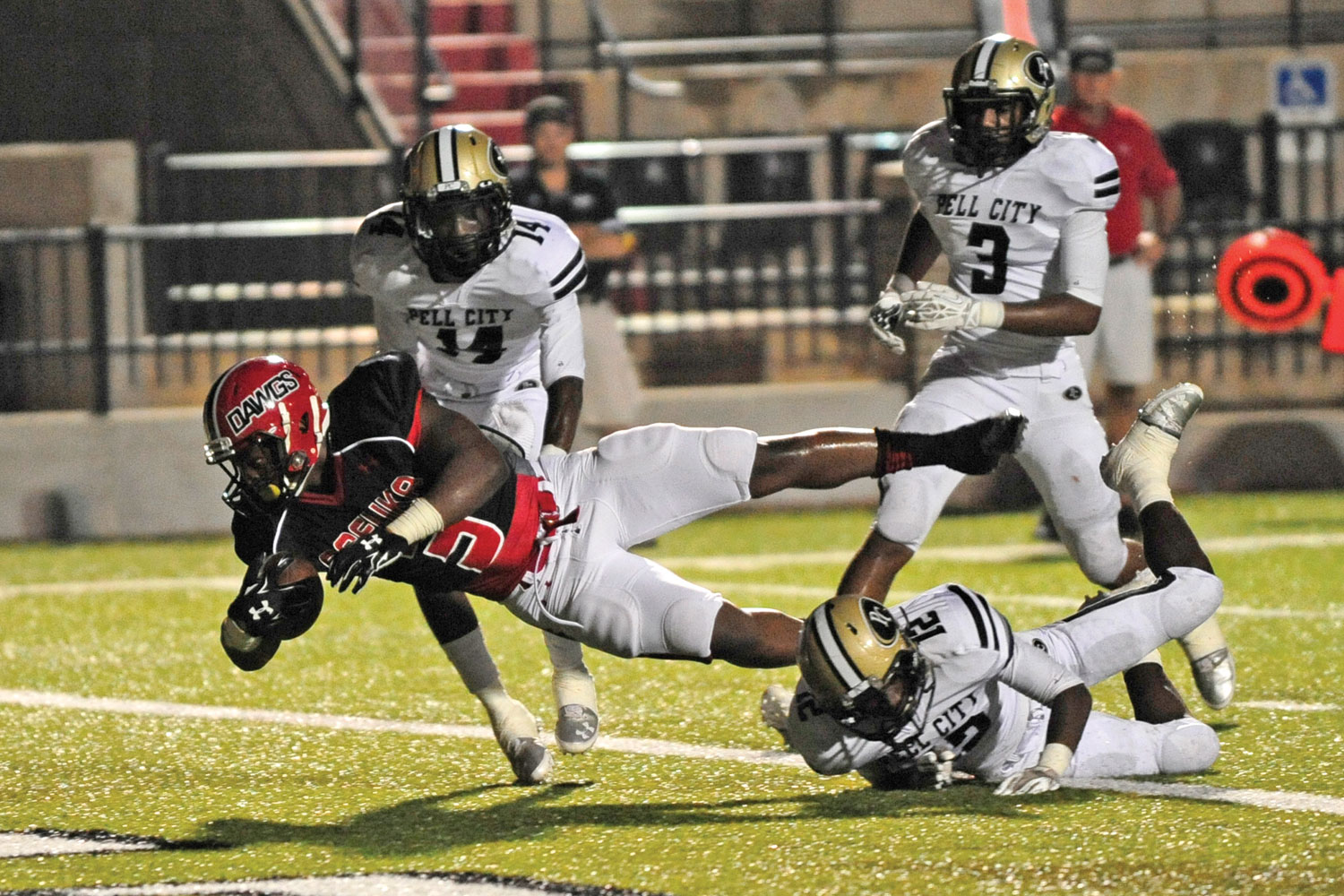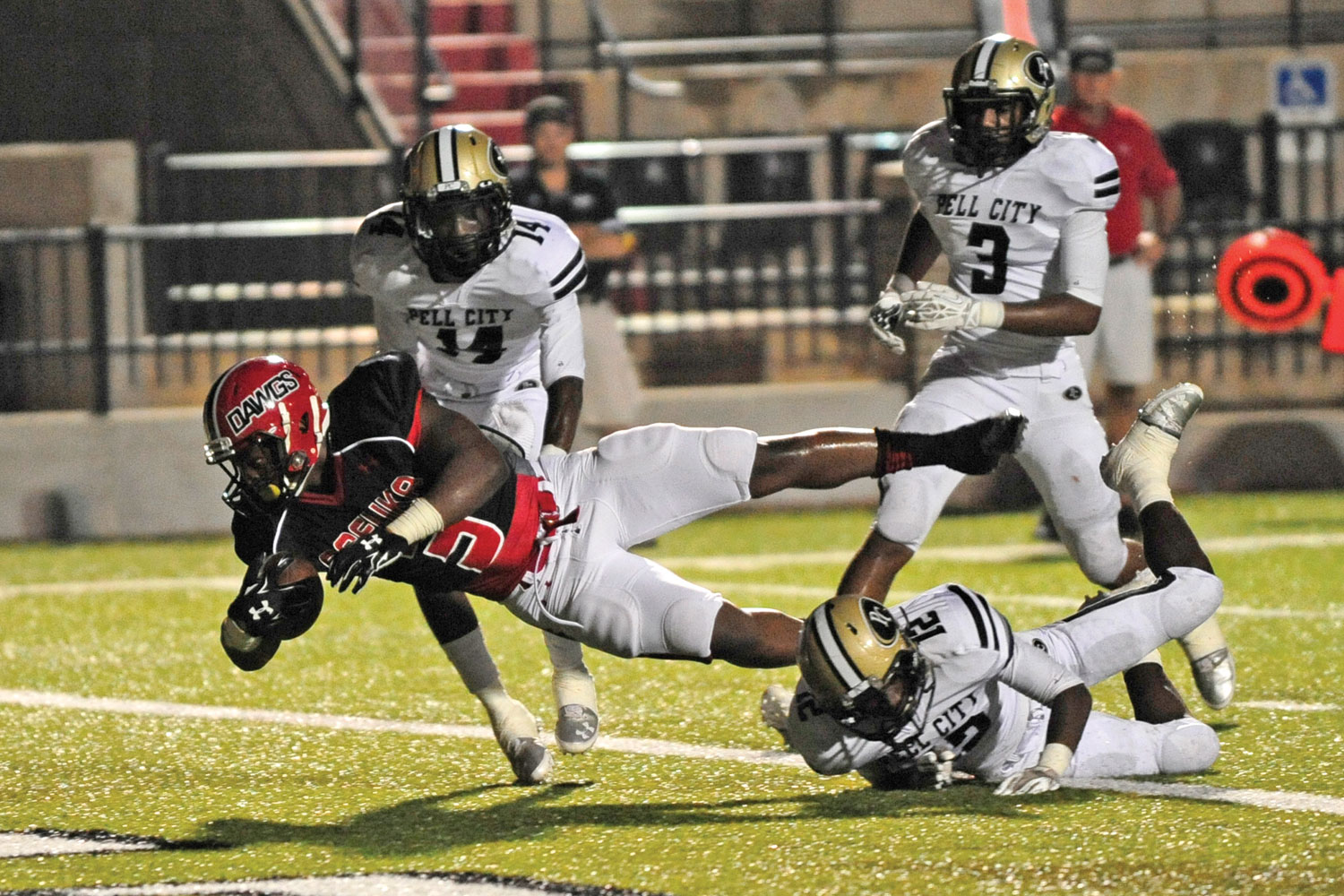 By D. Mark Mitchell
Sports Writer
FOOTBALL
The Opelika Bulldogs (3-0. R-2-0) dominated Pell City 53-0 in their home opener last Friday night. The Dawgs started fast, scoring 40 first half points while holding the Panthers scoreless.
Mathew Christian was near perfect passing the ball, 13 of 14 for 191 yards and 3 TDs. Sophomore Jake Bentley threw for 113 yards in a backup role. TJ Hamby was the leading receiver with five catches for 119 yards while teammate Kyle Foutenbary caught three passes for 78 yards.
The Bulldogs rolled up 469 yards of total offense while the Opelika defense held Pell City scoreless. This is the second week in a row their opponent was shut out. Senior defensive linebacker Roy Yancey led the team with 21 tackles, Justin Tolbert and Jared Gentry had nine tackles each.
In last week's column, I predicted a fast and solid performance from Opelika. The Dawgs followed by playing their most complete game to date. I wrote last week that  playing at home the first time would give the Dawgs the incentive to start fast and play hard for the entire 48 minutes.
OHS will go back on the road to play Region foe Oxford tonight.
The Yellow Jackets have a record of 2-2 and 1-1 in Region play. Oxford defeated Chilton County 14-13 last Friday night, lost to Valley 25-21, lost to Gadsden City 48-28 and beat Southside Selma 42-21.
KEYS TO AN OPELIKA VICTORY
Oxford enters tonight's game scoring 105 points while allowing 107. Opelika has scored 96 points and allowed only 17 points and no points in Region play.
The Yellow Jackets are led by running back Tre Gamble, (112 yards rushing and 79 yards receiving against Chilton County) who is their go-to guy. Despite giving up 13 points the Yellow Jackets held Chilton County to minus-eight rushing yards and only 88 yards of total offense.
Opelika lost second team running back Weldon Ford for the year after a season-ending injury Monday in a Junior Varsity game. This leaves the Bulldogs one back short in the backfield. Coach Blackmon will turn to either Tanner Blatt or defensive player Zach Yancey to fill the void. This is a huge blow to the OHS team. Ford was proving he could carry the load when needed in 6A football.
The Bulldogs have the Region's best defense, allowing 17 points in four games; two of those games were shutouts. This kind of defense will take you a long way! Championships are won on defense. I know it's early in the season but I like  the OHS defense. Offensively the Bulldogs are moving the ball through the air and on the ground. This kind of consistency is needed as the season progresses.
Oxford is another new opponent for OHS. Opelika has never played them in a game. This will also be the first Region game between the two schools. OHS needs to continue to play stout defense and move the ball on the ground and through the air. This kind of balance will take us a long way.
I look for the Bulldogs to remain unbeaten. The game may be close early, but the Bulldogs will take over in the second half to win the game.
This will be the fourth road game in five weeks for Opelika. This has to be a factor. No place is as good as home.
LISTEN TO THE GAME ON WKKR
You can listen to the Opelika vs Oxford game tonight at 6:30 on 97.7 KICKER FM or online at www.kickerfm.com.
We will not be able to livestream the game tonight as Oxford has a policy against live television broadcasts of sports events. This will resume next Friday night.
Radio coverage on 97.7 FM will begin at 6:30 p.m. with Coach Blackmon's pre-game show.The Opelika radio crew, Jeff Sasser, Larry Gore, Wade Meadows and I will broadcast the game.
CROSS COUNTRY HOSTs MEET
The Opelika High Cross Country teams will host the annual Bulldog Invitational this Saturday, beginning at 8 a.m. The middle schools are first followed by the girls and boys varsity. Opelika should be favored to win the event which is held at the Opelika Sportsplex.
Admission is free, and we encourage all spectators to arrive early.
D.Mark Mitchell is sports director for Qantum Radio, Alabama Dixie Boys State director and vice president of the  A-O Sports Council.