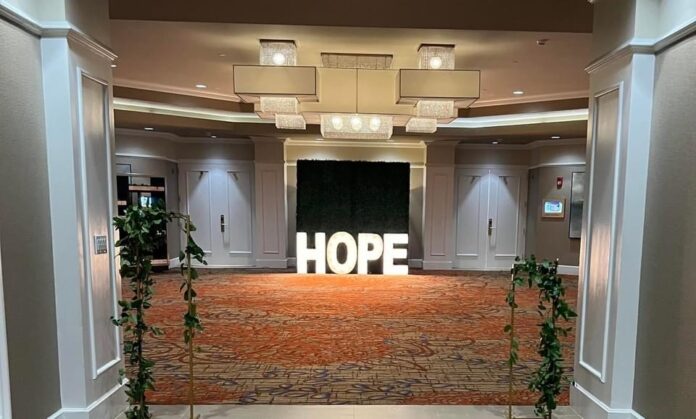 CONTRIBUTED BY JEREMY WALDEN / FOR THE OBSERVER
AUBURN —
Women's Hope Medical Clinic, a cornerstone of support for East Alabama and beyond, is preparing to commemorate four decades of unwavering service. On Oct. 3, Women's Hope will host the annual fundraising gala, bringing stories of hope, transformation and a call to action to life in the Grand Ballroom of the Hotel at Auburn University.
Registration for the event is required and can be made at www.womenshope.org/gala. Register today before seats fill up.
At this year's gala, attendees will be privileged to hear moving testimonies from families profoundly impacted by the unwavering support received at Women's Hope Medical Clinic. These stories of resilience and hope underscore the clinic's enduring commitment to the community, offering a firsthand glimpse of the positive change support can bring to countless families.
The gala not only serves as a celebration but also as a call to action. Guests will discover how their support can pave the way for the clinic's next 40 years of ministry. Your contribution can make a significant difference in the lives of many more families in the years to come.
The evening's goal is ambitious yet essential: to raise at least $400,000. This financial milestone will ensure that Women's Hope Medical Clinic can continue providing free services to families in our community. Your generosity can directly impact the clinic's ability to offer vital services, touching the lives of those who need it most. More than 1,000 individuals were served this past year alone.
"Over the past four decades, Women's Hope Medical Clinic has remained steadfast in its commitment to sharing the love of Jesus and providing services to individuals facing unplanned or difficult pregnancies, Daria Monroe, the executive director, emphasized.
These services include medical-grade pregnancy tests, specific STI/STD testing and treatments, ultrasounds, prenatal clinic exams, parenting classes, material support, pregnancy loss counseling and more.
Doors to this event will open at 5:30 p.m., providing attendees the opportunity to network and engage with fellow supporters. The evening's dress code is business formal attire, reflecting the elegance and significance of the occasion.
Complimentary self-parking is available in the hotel parking deck, ensuring a hassle-free and enjoyable gala experience.
As Women's Hope Medical Clinic reflects on 40 years of community dedication, it said it looks forward to a future brimming with hope and opportunity. The gala presents a chance for all to participate in a meaningful legacy, where each contribution, regardless of size, plays a vital role in transforming lives.
Those unable to attend the gala can support Women's Hope Medical Clinic by visiting www.womenshope.org/donate.
Join Women's Hop[e on Oct. 3, at the Grand Ballroom of the Hotel at Auburn University, and make a lasting impact.