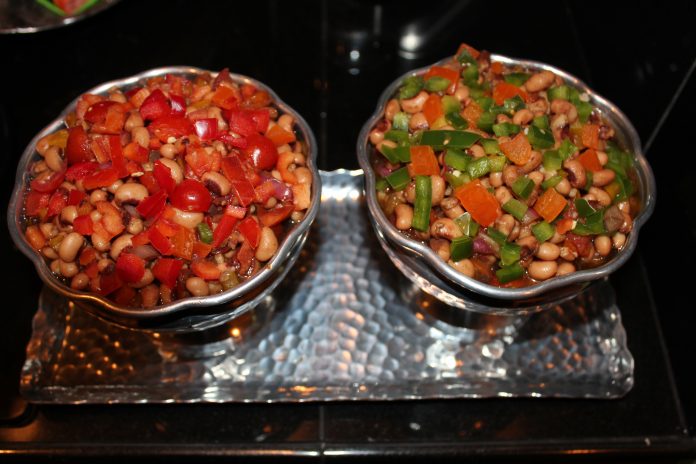 By Ann Cipperly
With Auburn and Alabama both playing in bowl games on New Year's Day, plan on having plenty of good food for watching the games. Invite family and friends over, and serve tasty dishes that have been prepared ahead.
Among the following recipes is an assortment of cheese balls from the 2017 Heritage Cooking Contest, sponsored by the Women's Leadership Division of the Alabama Farmers Federation. Jamie Lazenby was the Lee County winner with her Cheese Ball recipe combining cream cheese and chopped dried beef mixed with a packet of "Raven's Nest Garden Mix."
Contestants from 28 counties entered the 42nd annual Heritage Cooking Contest with their favorite cheese ball recipe. The competition was held in Montgomery this past fall.
Harriet Jones of Chambers County won First Place with her Cheese Ball recipe featuring cream and cheddar cheeses embellished with onion, red pepper, celery and pecans. The cheese mixture is rolled in additional chopped pecans and served with crackers.
Second place winner was Emily Taylor of St. Clair County with her Pimento Cheese and Bacon Cheese Ball, while Polly McClure of Jefferson County received third place with a Bruschetta Cheese Ball with Panko Coating.
Polly's recipe calls for Boursin Garlic and Fine Herbs Cheese mixed with cream cheese and mozzarella cheese, and then enhanced with chopped tomatoes, finely chopped herbs and balsamic vinegar.
Several other cheese ball recipes are included from contestants around the state. Prepare two or three of the cheese balls for an appetizing tray. Add a bowl of nuts and assorted crackers or toasted French bread for the presentation.
Since southern New Year's fare includes black-eyed peas, give a nod to the tradition with Lower Alabama Caviar from LuLu's in Gulf Shores, shared by Melody Hilyer. This flavorful appetizer combines black-eyed peas with chopped green, yellow and red peppers as well as red onion and cherry tomatoes. The mixture is tossed with a balsamic vinegar and olive oil dressing.
Serve a selection of cheese balls and the black-eyed-pea dip as the game begins. During halftime, offer Slow Cooker Buffalo Chicken Sliders, the Tex-Mex Tortilla Bake, Easy Enchiladas or the Turkey, Bacon and Avocado Rolls with the Layered Salad and Guacamole Dressing. These are easy, make ahead dishes for hearty appetites.
As you consider New Year's resolutions, include one for opening your home more for hospitality and spending more time at the table with family in the coming year.
From our home to yours, we wish everyone a Happy New Year.
Ann Cipperly can be contacted at recipes@cipperly.com.
Lower Alabama Caviar
From LuLu's in Gulf Shores
Melody Hilyer
Dressing: 
¾ cup balsamic vinegar
½ cup extra virgin olive oil 
¼ cup sugar
2 tsp. salt
1 tsp. black pepper
Caviar mixture:
4 (15-oz.) cans black-eyed peas, rinsed and drained
1 cup chopped green bell pepper 
1 cup chopped yellow bell pepper
1 cup chopped red pepper
1 cup chopped red onion 
1½ cups cherry tomatoes, quartered
1 cup chopped fresh parsley 
Combine all dressing ingredients in a jar; cover tightly and shake vigorously to dissolve sugar. Set aside.
Rinse and drain peas well. Place in a large glass or aluminum bowl.
Add remaining ingredients and dressing. Toss well. Transfer to glass or plastic container, cover and refrigerate for at least two hours before serving.
Serve with tortilla scoops, saltines or crackers of choice.
Ham Rolls With Poppy Seed Mustard Spread
Slider buns, small rolls or Sister Shubert's frozen dinner yeast rolls (thaw slightly and slice, then bake)
Shaved ham
Swiss cheese, sliced
1 stick butter, softened
Dijon mustard, use about half the jar or to taste
1 Tbsp. poppy seeds
To prepare spread, mix together butter, Dijon mustard and poppy seeds. Slice rolls and spread with mustard mixture and fill with shaved ham and a small slice of Swiss cheese. Wrap rolls in foil and heat in a 300 or 325 degree oven for 10 to 15 minutes.
Can make the rolls the day before and refrigerate until ready to heat.
Cheese Ball
First Place Winner, Heritage Cooking Contest
Harriet Jones, Chambers County
1 (8 oz.) cream cheese, softened
1 cup shredded sharp cheddar cheese
1 Tbsp. finely chopped onion
1/2 cup finely chopped bell pepper
1/2 cup finely chopped celery
1/2 cup finely chopped pecans
1/2 tsp. salt
1 tsp. pimento
1 tsp. lemon juice
I tsp. red pepper
1 cup chopped pecans
Mix above ingredients well, setting aside 1 cup pecans. Mix until thoroughly blended; chill. Roll in 1 cup finely chopped pecans, and serve with crackers.
Pimento Cheese and Bacon Cheese Ball
Second Place Winner, Heritage Cooking Contest
Emily Taylor, St. Clair County
For the Pimento Cheese:
8 oz. pkg. cream cheese at room temperature
¼ cup mayonnaise
1/2 tsp. Dijon mustard
1/2 tsp. garlic salt
¼ tsp. ground cayenne pepper
8 oz. extra sharp cheddar cheese, grated
1(4 oz.) jar pimentos, drained
Salt and pepper to taste
In a large bowl, mix cream cheese with a mixer until smooth. Beat in mayonnaise and spices. Mix cheese and pimentos until well combined. Salt and pepper to taste. Refrigerate 4 hours or until firm.
Cheese Ball Coating:
18 oz. cooked, crisp bacon, finely diced or bacon bits (1½ cups)
1 1/2 cups pecans, toasted and finely chopped
1/2 to 1 jalapenos, minced (seeds and membranes removed)
In a medium bowl, combine bacon, pecans and jalapenos. Roll cheese ball into coating. Refrigerate until ready to serve.
Bruschetta Cheese Ball with Panko Coating
Third Place Winner, Heritage Cooking Contest
Polly McClure, Jefferson County
15.2 oz. Boursin Garlic & Fine Herbs Cheese
1 (8 oz.) pkg. cream cheese, room temperature
¼ cup sour cream
1 cup mozzarella cheese, shredded
1/2 cup finely grated Parmesan cheese
2 Roma tomatoes, seeded and chopped
1/2 cup finely chopped fresh herbs
1 Tbsp. balsamic vinegar
¼ tsp. crushed red pepper flakes
¼ tsp. salt
1/8 tsp. pepper
Add all ingredients together in large bowl and mix until well combined. Drop mixture onto large piece of plastic wrap, cover tightly, and shape into ball. Chill in refrigerator overnight.
3/4 cup panko breadcrumbs
1 Tbsp. butter
1 tsp. dried basil
Melt butter in medium skillet over medium heat. Stir in crumbs and basil. Continue to stir constantly until panko crumbs are golden. Remove from heat and cool completely.
When ready to serve, remove cheese ball from refrigerator and roll in toasted panko mixture, pressing to adhere and evenly coat. Serve with bagel chips or toasted baguette slices.
Cheese Ball
Jamie Lazenby, Lee County Winner
2 (8 oz.) pkg. cream cheese, softened
¼ cup water
1 packet "Raven's Nest Garden Mix"
1 oz. chopped dried beef
Mix spice with water and let stand 5 minutes. Add cream cheese and blend well. Add chopped dried beef and mix well. Chill for 2 hours. Shape into ball. Garnish with nuts, olives and parsley. Serve with crackers, bagels or celery stalks.
Slow Cooker Buffalo Chicken Sliders
6-7 boneless chicken breasts 
1 medium size onion, diced
1/2 stick butter, cut in pieces
1/2 tsp. black pepper
1/2 tsp. garlic powder
1/2 tsp. celery salt
1 pkg. dry ranch dressing mix
1 1/2 cups hot wing sauce, divided 
1 pkg. provolone or Swiss cheese slices
1 pkg. King's Hawaiian dinner rolls
Bleu cheese dressing or ranch dressing
Shredded lettuce
Spray a slow cooker with nonstick spray.  Place diced onion in bottom.  Place chicken on top of onion.  Sprinkle black pepper, garlic powder, celery salt and ranch dressing mix on chicken. Place pats of butter on chicken.
Pour 1 cup of the hot wing sauce over all. Reserve the other 1/2 cup for later.  Cover and cook on high for 3-4 hours or on low for 6-7 hours.
Remove chicken and shred it with two forks.  Keep about 1 cup of liquid the chicken cooked in, and place the shredded chicken back in it in the slow cooker.  Pour the reserved 1/2 cup of wing sauce over chicken and mix together.
Place a slice of provolone on each roll and then the chicken.  Top with shredded lettuce and dressing of your choice or serve plain.
Turkey, Bacon and Avocado Rolls
Four 10-inch flour tortillas 
8 to 12 leaves of green or red leaf lettuce
12 oz. sliced cooked turkey breast 
12 slices apple-wood smoked bacon, cooked 
1 tomato, thinly sliced 
1 ripe Hass avocado, peeled, pitted and cut into 16 slices tossed with 2 tsp. lime or lemon juice 
Sea salt and freshly ground pepper 
Ranch dressing 
Warm tortillas, if desired. Lay tortillas on a cutting board and start to layer ingredients. Fan leaf lettuce on the top three-quarters of each tortilla then lay turkey slices on top, followed by bacon, tomato, and avocado. Season with salt and pepper to taste. Top with some of the dressing.
Fold up the bottom quarter of the tortilla and then start to roll each sandwich into a cone shape. Secure the tortilla with a toothpick. Can slice, if desired. Serve with dressing.
Harris Delight
Paula Harris
1 lb. lean ground beef
Salt and pepper to taste
1 Tbsp. butter
1 onion, chopped
1 green pepper, chopped
1 qt. stewed tomatoes
Small amount frozen corn or okra
½ cup ketchup
¼ cup sugar
Louisiana hot sauce to taste
Brown ground beef in large skillet; salt and pepper to taste. In another skillet, melt butter and lightly brown onion and pepper.
In a large soup pan, combine ground beef, onions, green peppers and remaining ingredients. May add a splash of water if too thick. Simmer 25 minutes or until flavors blend. Freezes well. Good served with Jalapeno Cornbread.
Tex-Mex Tortilla Bake
1 lb. ground beef
1 onion, chopped
½ tsp. salt
Two 14 ½ oz. cans stewed tomatoes
1 can enchilada sauce
8 flour tortillas
6 oz. cream cheese, softened
1 can green chilies, drained
1 cup grated Monterey Jack cheese
Cook beef until brown and onion is tender; season with salt and drain fat. Stir in tomatoes and enchilada sauce. Bring to a boil and simmer five minutes.
Spread cream cheese on tortillas; sprinkle green chilies on top. Fold in half. Pour half of beef mixture into a 9 by 13 inch pan. Top with tortillas. Pour remaining sauce down center of tortillas. Top with cheese. Bake at 350 degrees for 20 minutes.
Easy Enchiladas
Mary Ann Swanson
1 ½ lb. ground beef
1 pkg. taco seasonings
1 cup grated cheddar cheese, divided
2 cans cream of chicken soup
1 can Rotel tomatoes
8 oz. sour cream
1 pkg. tortillas
Brown beef; drain fat. Stir in taco seasonings and ¾ cup cheese. Mix soup, sour cream and Rotel in separate bowl.
In a 9 by 13 inch dish, put thin layer of soup mixture on bottom.
Spread beef mixture into tortillas and roll up. Place in dish. Cover with remaining soup mixture. Sprinkle remaining cheese on top. Cover with foil. Bake at 350 for 30 minutes or until hot.
Layered Salad with Guacamole Dressing
1 head iceberg lettuce, torn into bite size pieces
2 tomatoes, seeded and chopped
½ cup sliced black olives, optional
½ cup sliced or chopped red onions
1 cup or more shredded cheddar cheese
½ to 1 can black beans, drained
Dressing
1 cup fresh or frozen guacamole
½ cup sour cream
1 tsp. lemon juice
1 tsp. chili powder or to taste
Coarsely broken tortilla chips or Fritos for topping
Spread two-thirds of the lettuce into a glass bowl. Add a layer of tomatoes and olives; add remaining lettuce. Cover with onion, cheese and beans.
Combine dressing ingredients; spread over salad. Chill up to 24 hours. Just before serving, cover top with broken chips.
Red Pepper Hummus
2 cans (15 oz.) garbanzo (chick) beans, rinsed and drained
1 jar (12 oz.) roasted red peppers, drained and chopped
2 lemons, juiced
4 Tbsp. olive oil
1 tsp. ground cumin
2 tsp. smoked paprika
1/2 tsp. sea salt
1/4 tsp. black pepper
2 large garlic cloves, minced
1/3 cup grated Parmesan cheese
Pita chips, fresh vegetables
Dry roasted peppers with paper towels. Add beans, peppers and remaining ingredients, except chips and vegetables, in a food processor or blender. Puree until smooth and creamy. Serve with pita chips and fresh vegetables.
Baked Goat Cheese
Kay Harris
3 oz. log goat cheese
4 Tbsp. olive oil
2 Tbsp. balsamic vinegar
¼ tsp. Herbs de Provence, optional
Crackers or toasted baguettes
Put goat cheese in small baking dish and press to about ½ inch thickness. Coat goat cheese with olive oil. Sprinkle herbs de Provence over cheese.
Pour balsamic vinegar around mixture.
Bake at 350 degrees for about 10 minutes or until cheese has softened. Serve with crackers or toasted baguettes.
Family Style Chili with Toppings
1 lb. ground beef
1 can Rotel tomatoes
One 15 ½ can kidney beans
31 oz. can Van Camp's pork and beans
1 Tbsp. Worcestershire sauce
Optional Toppings: sour cream, grated cheddar cheese, tortilla chips, corn chips, chopped onions, guacamole
Brown meat in large saucepan; drain fat. Add tomatoes, beans and Worcestershire sauce; simmer 15 to 20 minutes. Can place in crock-pot and simmer until ready to serve. Can be prepared ahead. Easy to double or triple for a crowd.
Serve with toppings of choice.
Easy Chicken Wings
36 chicken wings
1 cup soy sauce
½ cup sugar
1 cup packed dark brown sugar
Disjoint wings and discard tips. Arrange chicken in a single layer on baking pan. Combine remaining ingredients; mix well. Pour over wings. Bake at 325 degrees for 30 minutes, turn wings and bake 30 minutes. Turn again and continue baking 20 minutes. Serve hot or at room temperature.
Harvest Cheese Ball
Jennifer Salac, Baldwin County
8 oz. cream cheese (room temperature)
4 oz. goat cheese (room temperature)
1 Tbsp. sour cream
1 Tbsp. blue agave nectar (Domino brand)
¼ cup craisins
¼ chopped pecans
¼ cup sunflower seeds
1 Tbsp. dried apricots, chopped
In large bowl, mix cream cheese, goat cheese, sour cream and nectar together. Chop craisins in food processor and add to cheese mixture. Mix well. Place cheese mixture onto plastic wrap and form into a ball. Secure and refrigerate for 2-24 hours. Pour nut mixture and dried apricots into food processor and chop. Pour nut mixture into colander and stir. This will allow small crumbs to escape. Roll cheese ball into nut mixture, lightly pressing into ball. Serve with crackers.
Cranberry Cheese Ball
Stephanie Miller, Blount County
3 (8 oz.) pkgs. cream cheese
1 can crushed pineapple, drained
1 pkg. craisins
1 tsp. lemon juice
I tsp. vanilla
1/2 cup confectioners' sugar
1 cup chopped peanuts
Mix all ingredients except nuts. Place in refrigerator for 1 hour. Form into shape. Add nuts. Cover and chill.
Charleston Cheese Ball
Melissa Brooks, Lauderdale County
2 blocks cream cheese
1/2 cup mango chutney
1/3 cup finely sliced green onions
1 tsp. Old Bay seasoning
1 cup shredded sharp white cheddar cheese
1/8 tsp. cayenne pepper
1/2 cup pecan pieces
2 1/2 cup pecans for garnish
In a bowl, combine cream cheese, chutney, onion and old bay seasoning. Blend until smooth. Add cheddar cheese and pecans until well blended. Scoop cheese mixture into a plate lined with wrap and press with hand to get shape. Refrigerate for 8 hours.
Unwrap the cheese ball and let stand at least 20 minutes. To mimic a pineapple use pecans in an overlapping tile fashion and garnish with rosemary springs for the crown. Use the 2 1/2 cups pecans for garnish.